CONVICTION REVIEW UNIT
One of the keys ways that the Brooklyn DA's Office ensures fairness and public safety is through our Conviction Review Unit (CRU). Expanded and revamped in 2014, Brooklyn has the largest dedicated unit in the country tasked with reviewing old cases in which credible claims have emerged that people may have been wrongfully convicted.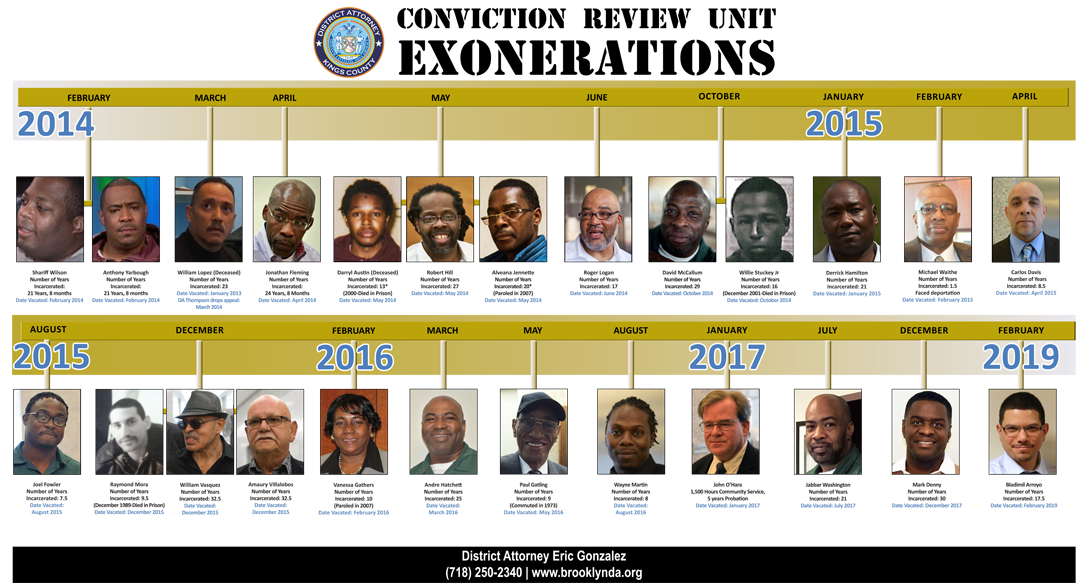 When the CRU investigates a potential wrongful conviction, they take a fresh look at all the evidence. They re-interview witnesses, consult with experts and use the most up-to-date science and technology to reevaluate the evidence. This includes forensic science like DNA, as well as social science research on issues like faulty eyewitness identification and false confessions.
The CRU's work is critical for public safety. If the wrong person is sitting in prison for a serious violent crime, the real perpetrator may still be out there endangering the public.
Moreover, it offends our most basic sense of fairness, and corrodes public confidence in the justice system, for anyone to serve decades in prison for a crime they didn't commit or because they did not get a fair trial. As of February 2019, Brooklyn's CRU had exonerated 24 people, and the Unit has many more cases under review.
In addition to reviewing cases in Brooklyn, the attorneys from the CRU share their expertise with other prosecutors' offices across the country.
Brooklyn's CRU staff have helped prosecutors' offices in Los Angeles, Detroit, Cleveland, Tampa, Boston and elsewhere to create or improve their own Conviction Review Units.
Internally as well, CRU staff trains all new ADAs on the kinds of errors that most commonly lead to wrongful convictions.
If prosecutors ignore credible claims of wrongful conviction, it undermines public confidence in the justice system. Conversely, when the Brooklyn DA's Office vigorously investigate claims of innocence, exonerates innocent people, admits mistakes, and apologizes, that sends a powerful message to the public that we can be trusted to pursue the truth, and not just guilty verdicts.
---
Recent Press Releases