CONVICTION REVIEW UNIT
One of the first things the late DA Thompson did after taking office in 2014, with now DA Eric Gonzalez by his side, was to create perhaps the largest Conviction Review Unit (CRU) in the country, which is tasked with looking into old, questionable convictions.  The structure and unprecedented work of the unit which upheld most cases but concluded that 24 people had to be exonerated is now considered a national model.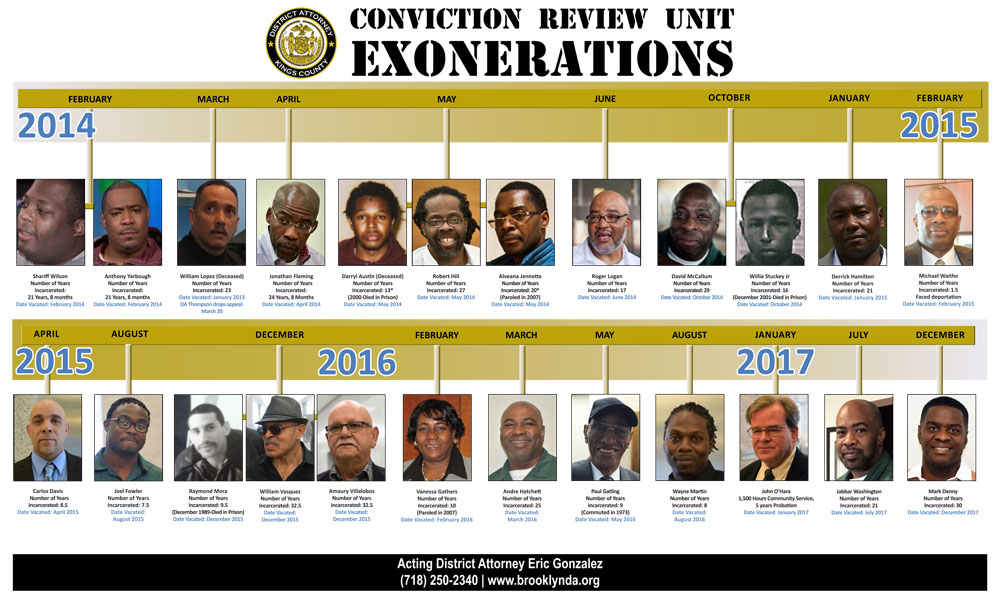 The CRU's work received further attention when three men, who were found guilty of starting a blaze that killed a mother and her five children in 1980 inside a Park Slope brownstone, were exonerated. A thorough CRU investigation concluded that the single eyewitness who connected them to the crime was a habitual liar who recanted on her death bed, and the fire science that was used to determine the fatal fire was arson has evolved and experts concluded that the cause of the blaze may well have been accidental. The defendants, two of whom served over 30 years each in prison for the murder conviction, with the third dying behind bars, had their names cleared in an emotional court hearing.
In October 2015, the DA's Office hosted a Summit on Wrongful Convictions, titled: "Justice Continued: Prosecutors and Conviction Review."
Prosecutors from all over the country, including California, Ohio and Texas, as well as defense lawyers and innocence advocates, gathered in Brooklyn Law School for two days to share ideas, methods and concerns about this crucially important, but still developing, field.
Wrongful convictions do not only affect those who spend time in prison for a crime they did not commit, "they undermine the integrity of our criminal justice system," DA Thompson said when kicking off the summit the first such event organized by a prosecutor's office.
In the following two days, discussions revolved around the mechanics of conviction review units, the challenges of setting them up and ways to create checks and balances, like the Independent Review Panel that was established in Brooklyn, consisting of three outside lawyers who issue recommendations based on the CRU's findings.
VIDEO: Summit on Conviction Review
 
Recent Press Releases