FOR IMMEDIATE RELEASE
Monday, December 7, 2015
Brooklyn District Attorney's Citizens' Safety Day Took Guns off the Streets
And Allowed Residents to Begin Again by Clearing Summons Warrants
Gun Buyback Nets 60 Weapons, Nearly 600 People Attend Warrants Adjudication Event
Brooklyn District Attorney Ken Thompson today announced that two important community-based initiatives this past Saturday were successful in helping residents dispose of unwanted guns and get rid of outstanding warrants stemming from summonses for minor offenses. Held in two Brooklyn churches, Citizens' Safety Day resulted in 60 guns being turned in and 336 warrants cleared from residents' records.
District Attorney Thompson said, "Saturday was a tremendously successful day in Brooklyn. Dozens of guns that had the potential to cause harm by falling into the hands of criminals are out of circulation and hundreds of our neighbors had the fear of getting arrested for an unpaid summons lifted off their shoulders. We will continue to partner with other agencies, organizations and the community to enhance safety and fairness across our borough."
The District Attorney said that a total of 60 firearms were turned in at the Gun Buyback event that took place on Saturday, December 5, 2015, at the Lenox Road Baptist Church in East Flatbush, in partnership with the NYPD. Nearly all of them were "street guns" – mostly revolvers and semi-automatic pistols that are often used to commit crimes. They also included two rifles and three "zip guns" or homemade weapons that are sometimes used by gang members.
No ID was required and no questions were asked of those who chose to turn in the firearms in exchange for a $200 bank card for each gun. But some residents who came to the event said that recent shootings, in their neighborhood and nationally, prompted them to get rid of guns they had at home, which could have been stolen or used by a child. Others, like a construction worker who said he found a loaded gun inside a dumpster, brought weapons that could have easily ended up with criminals.
The Gun Buyback program is one piece of the District Attorney's comprehensive approach to combat gun violence, which includes investigations of gun traffickers, targeting of individuals who are responsible for the majority of shootings through initiatives by the newly-created Crime Strategies Unit and securing convictions and lengthy prison sentences in drug- and gang-related cases prosecuted by the Violent Criminal Enterprises Bureau.
Also on Saturday, some 575 people attended the District Attorney's third Begin Again – a program designed to offer a solution to thousands of individuals who have an outstanding warrant because they failed to answer a summons for a low-level offense, like walking a dog without a leash or being in a park after closing. There are over one million open warrants citywide and they carry a number of negative consequences including subjecting the warrant holder to arrest at any time.
In all, 336 warrants were cleared at Mount Lebanon Baptist church in Bedford-Stuyvesant on Saturday. Participants who did not have summons warrants were given the opportunity to receive advice on a host of other issues and to take advantage of a resource fair inside the church. The District Attorney's Office again partnered with the NYPD, the Office of Court Administration and the Legal Aid Society in holding the event. In three Begin Again events this year, nearly 2,400 people from all five boroughs received assistance and over 1,600 warrants were vacated.  
The District Attorney  said that this program helps foster trust between law-enforcement and the community and allows different agencies and the people they serve to come together and achieve a common good. Additional Begin Again events are planned for 2016.
#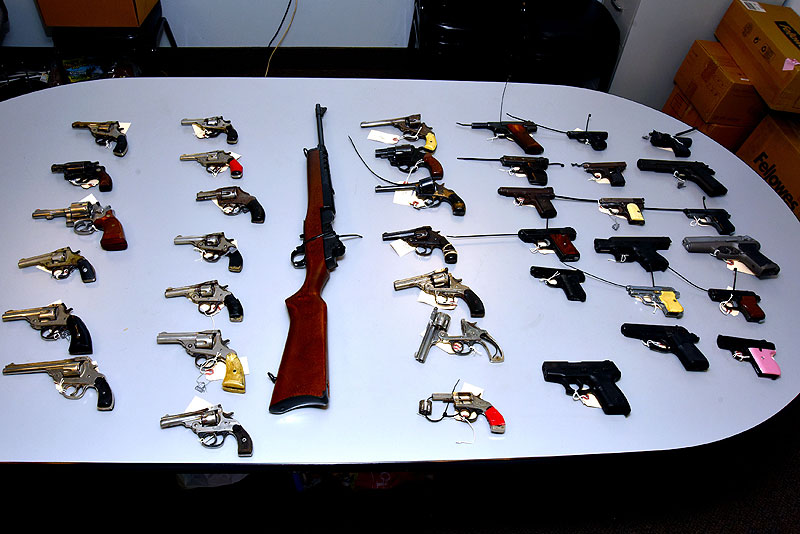 Guns turned in at the Buyback event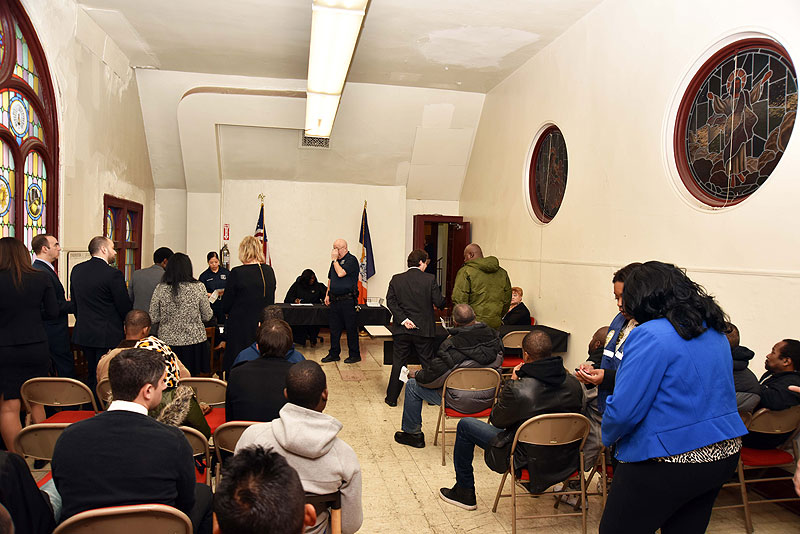 The makeshift courtroom at Begin Again