HUMAN TRAFFICKING UNIT
The Human Trafficking Unit (HTU) vigorously investigates and prosecutes those who, through such means as physical force, fraud, and/or psychological coercion, have forced individuals into sex trafficking, child sex trafficking, and labor trafficking. The HTU uses best practices to actively investigate all forms of human trafficking through data-informed, victim-centered, evidence based, and multi-disciplinary approaches.
The HTU provides Human Trafficking 101 training to community members on the signs of human trafficking and how to report the crime through the DA's Human Trafficking Hotline. The training also includes how family members, concerned citizens, coworkers etc. can assist potential victims by accessing social services through the Human Trafficking Hotline.  The HTU also provides advanced training for law enforcement agencies, NGO's, healthcare providers, financial industries, and government agencies to increase identification, to address barrios in policy and practice, and to increase collaboration across disciplines.

The HTU investigates and responds to all 440 Vacatur Motions brought by individuals who have convictions of crimes as a result of their trafficking.
The Brooklyn Human Trafficking Task Force
The Kings County District Attorney's Office and Safe Horizon Co-Chair the federally funded Brooklyn Human Trafficking Task Force, a multi-disciplinary team focused on addressing human trafficking in NYC by bringing together law enforcement, service providers, research institutions, and civil society.
Mission Statement
The mission of the Brooklyn Human Trafficking Task Force is to combat all forms of human trafficking through a coordinated community response; use a victim-centered approach in proactively investigating and prosecuting human trafficking; provide comprehensive, trauma-informed services to victims of human trafficking; and enhance community capacity to identify and report human trafficking
Goals
The goals of the BKHTTF align with the mission and include:
Develop and implement standard protocol for serving victims of trafficking for law enforcement and service providers
Conduct coordinated training and outreach to community groups and professional groups in Brooklyn
Streamline referral processes to law enforcement and service providers
Provide comprehensive information regarding services to all victims served by the task force.
Collaborative Approach
The collaborative model allows for all victims served by the BKHTTF to be served by all available services and resources. The BKHTTF consists of law enforcement, non-governmental agencies, New York City agencies, hospitals, for-profit companies and advocates to address issues surrounding human trafficking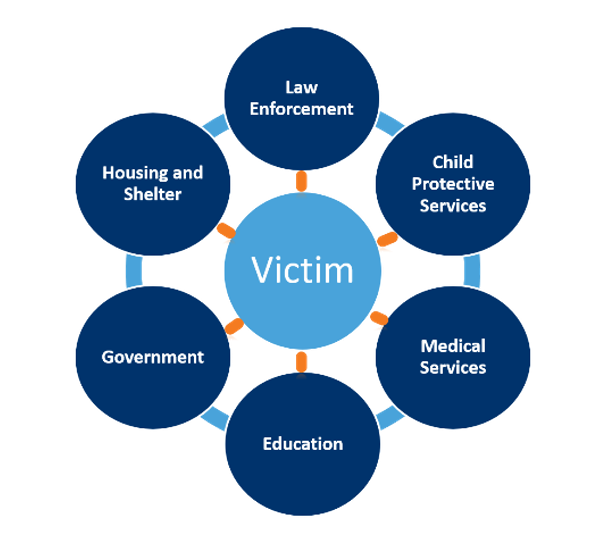 January Human Trafficking Awareness Events
New York State Human Trafficking Awareness Event 2021
For the first time, the Brooklyn Human Trafficking Task Force, Suffolk County Anti-Trafficking Initiative, and the Western District of New York Human Trafficking Task Force partnered to deliver targeted statewide training for law enforcement, healthcare providers, and the community on how to better identify trafficking in their workplaces and community. The virtual event took place from January 25 through January 27 and included 12 panels and presentations from experts in the field. Each sector had one day of dedicated and tailored training. The event was aimed at providing community members with practical steps they can take to join the fight against trafficking. For more information, visit: http://www.brooklynda.org/htawareness2021.
Resources
Human Trafficking: It's Closer Than You Think 2020
On January 13, 2020, the BKHTTF hosted the annual awareness event: Human Trafficking: It's Closer than You think, which took place in Brooklyn Borough Hall and was open to the public. Keynote speakers included District Attorney Eric Gonzalez, who opened the event, and Ariel Zwang, the CEO of Safe Horizon. Panelists included two survivors of human trafficking who are now advocates in the community, a child-psychologist, Department of Labor employee, and an NYPD Human Trafficking Sergeant. The event was preceded by seven interpretive dancers and artwork by local Brooklyn student artists.
Documents from January 2020 Event
Publicly Available Documents
Do you know the signs of human trafficking?  Included in the document below are the signs of trafficking, how traffickers groom their victims, and how the Brooklyn Human Trafficking Team works to address and stop human trafficking.
Are you looking for services for a victim of human trafficking? Don't know who to call or what resources are out there? Check-out the Brooklyn Human Trafficking Resource guide for service providers who operate in the NYC region and provide services to trafficking victims. Still not sure who to call? Call the Human Trafficking Hotline below and ask to speak to someone about services or resources.
The "COVID-19 Effect on Human Trafficking Reponses" details the effect COVID-19 had on BKHTTF member organizations and their change of operations.
---
Recent Press Releases: