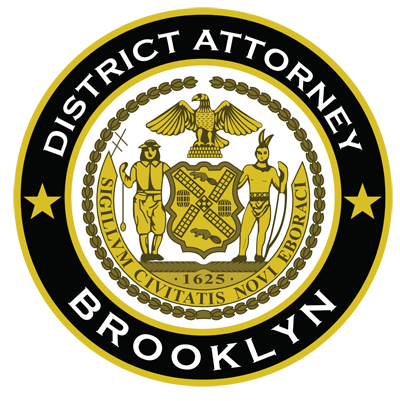 Kenneth P. Thompson
District Attorney
Kings County
June 30, 2016
COMMUNITY PARTNER IN JUSTICE NOTIFICATION
Billion-Dollar Sports Gambling Ring Dismantled;
Four Defendants Charged with Enterprise Corruption

Brooklyn District Attorney Ken Thompson today announced that four individuals have been indicted for running a massive internet-based sports gambling ring that operated all over the United States and controlled an offshore office. The billion-dollar operation allegedly catered to thousands of bettors and accepted $927 million in wagers on NFL games during the 2015 season alone.
The District Attorney said that, according to the indictment, between April 10, 2015 and June 9, 2016, the defendants were part of an illegal enterprise headed by defendant Gordon Mitchnick, 58, of Crestline, California, who controlled a series of Internet sports gambling sites, including www.wagerabc.com, www.thewagerspot.com and www.hustler247.ag.
The District Attorney identified the other defendants as Joseph Schneider, 39, of La Verne, California; Arthur Rossi, 66, of Manhattan, NY; and Claude Ferguson, 43, of Crestline, California. The defendants were arraigned yesterday on a 57-count indictment in which they are charged with enterprise corruption, first-degree promoting gambling and related charges.
It is alleged that his enterprise accepted wagers from thousands of bettors on various professional and collegiate sporting events, including football, basketball, baseball, hockey and soccer. The operation took in some $927,000,000 in wagers on NFL games played during the 2015 season, the investigation revealed. The enterprise used a variety of methods to allegedly launder its payments and proceeds, including transporting, transmitting and transferring of cash, electronic wire transfers and other financial transactions. For instance, the investigation found that Mitchnick had purchased over 20 houses as a means to launder gambling proceeds. On intercepted phone conversations, Mitchnick indicated that he was running an illegal operation, the investigation found.
District Attorney Thompson said, "Illegal gambling is not a victimless crime – it preys on peoples' vulnerabilities and directly leads to money laundering, loansharking and a host of other crimes. The principals of this huge gambling operation – possibly the biggest one ever to be dismantled by a local prosecutor's office – allegedly moved millions of dollars around the United States and the world and used various tactics to launder these proceeds. My Office's diligent and long-term investigation has now put an end to this criminal enterprise and we intend to see that these defendants face justice here in Brooklyn."
#
An indictment is an accusatory instrument and not proof of a defendant's guilt.
Read the full press release here.