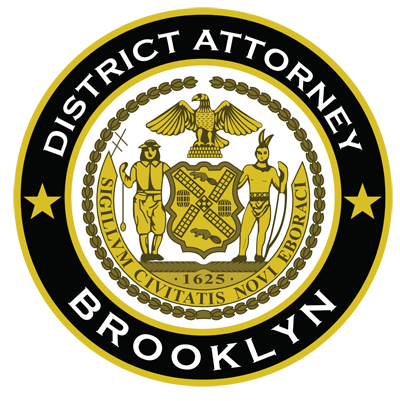 Kenneth P. Thompson
District Attorney
Kings County
June 29, 2016
COMMUNITY PARTNER IN JUSTICE NOTIFICATION
Three Alleged Gunmen Indicted for the Murder of
Carey Gabay during J'ouvert Celebration

Brooklyn District Attorney Ken Thompson today announced that three men have been charged with the murder of Carey Gabay outside the Ebbets Field Houses in Crown Heights, Brooklyn on Labor Day last year. Because each of the defendants allegedly engaged in mutual combat during the early morning shootout, they are all being held equally responsible and all have been indicted for murder. A fourth suspected gang member was previously indicted for possessing a machine gun at the scene.
The District Attorney identified the defendants as Micah Alleyne, 24, of Jamaica, Queens, an alleged member of Folk Nation; Tyshawn Crawford, 21, of East New York, Brooklyn, an alleged member of Hoodstarz, a gang affiliated with Folk Nation; and Keith Luncheon, 24, of Crown Heights, Brooklyn, an alleged 8-Trey member. They have been charged in a 16-count indictment with second-degree murder and related charges. Stanley Elianor, 25, of Brownsville, Brooklyn, an alleged member of Folk Nation, was arraigned in October 2015 on an indictment that charges him with criminal possession of a weapon.
The District Attorney said that, according to the investigation, in the early morning on September 7, 2015, the victim, Carey Gabay, 43, a first deputy counsel for the Empire State Development Corporation and a former assistant counsel to New York Governor Andrew Cuomo, was walking on Bedford Avenue with his brother and a couple of friends after attending the J'ouvert procession, a traditional predawn festival that precedes the annual West Indian American Day Parade. As the group passed In front of the patio of 1680 Bedford Avenue, crowded with hundreds of celebrants, a firefight allegedly broke out between members of warring gangs, including the defendants. A bullet struck Gabay in the head and he was taken to Kings County Hospital Center, where he died a week later.
The building's large patio was known to be controlled by the Folk Nation street gang, which has been engaged in a years-long war with the 8-Trey faction of the Crips gang, among others.
District Attorney Thompson said, "These defendants are charged with creating a killing field in a crowd of innocent people, showing depraved indifference to human life and causing the death of Carey Gabay, who used his Harvard education and commitment to public service to improve the lives of others. This indictment shows the importance of our efforts to put an end to gang-related gun violence that places innocent lives in the crossfire. We are determined to get justice for Carey and his family and to hold accountable everyone who was involved in the shootout that took his life."
Commissioner Bratton said, "Today, this Brooklyn homicide squad should be commended. They began with nothing and built this case despite extraordinary obstacles, reconstructing a chaotic scene to determine—with amazing specificity—what happened that early September morning. We will continue pursuing those who carried out this murder and finding common ground with the community to make J'ouvert safer in years ahead."
Governor Andrew M. Cuomo said, "Carey Gabay was a dedicated public servant whose life was cut short due to reckless gun violence – tragedy that plagues too many of our communities. With Carey's help, New York passed the nation's toughest gun safety law, but his murder underscores the fact that our federal gun laws are woefully inadequate. While we took a great step forward with our historic legislation, without action from Congress, known criminals will continue to buy guns in other states today and sell them on the black market in New York tomorrow. I am grateful to the law enforcement officials for their relentless work investigating this case and feel strongly that the perpetrators of this heinous act should be prosecuted to the fullest extent of the law. Today's indictments are an important milestone in the quest for justice, and I hope that they bring solace to Carey's family and loved ones."
#
An indictment is an accusatory instrument and not proof of a defendant's guilt.
Read the full press release here.