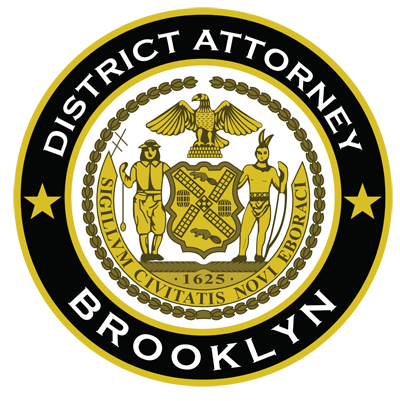 Kenneth P. Thompson
District Attorney
Kings County
August 3, 2016
COMMUNITY PARTNER IN JUSTICE NOTIFICATION
Twenty-Five Alleged Gang Members Charged
With Conspiracy, Violent Crimes in Connection with Crown Heights Turf War

Brooklyn District Attorney Ken Thompson today announced that 25 alleged members of the rival Lincoln Family and Bergen Family gangs have been charged in a 67-count indictment with conspiracy, murder, attempted murder, weapons possession and other charges in connection with eight separate shootings in Crown Heights that left six people injured and one teenager dead.
The District Attorney said that, according to the investigation, during the course of the conspiracy, between October 2013 and the present, the defendants allegedly agreed to commit crimes, including murder, assault and other violent acts to protect their turf. The defendants, who now range in age from 16 to 23, are members of rival street gangs operating primarily within the 77th precinct.
The violent acts charged in the conspiracy — which the defendants planned and shared on social media — include multiple alleged shootings by members of both gangs, including the January 2015 killing of 19-year-old Bergen Family member Jaquay (Queezy) Bennett on St. Marks Avenue in a retaliatory shooting by a Lincoln Family member.
In a March 2016 shooting, members of the Lincoln Family allegedly fired multiple shots at rivals as school was letting out at Clara Barton High School and the International High School in Prospect Heights, striking and injuring a Bergen Family member and a 13-year-old girl.
District Attorney Thompson said, "This indictment underscores the continuing commitment of this office and the NYPD to take back the streets of Brooklyn from mindless gang and gun violence that puts so many people at risk, including in this case an innocent 13-year-old girl."
#
An indictment is an accusatory instrument and not proof of a defendant's guilt.
Read the full press release here.