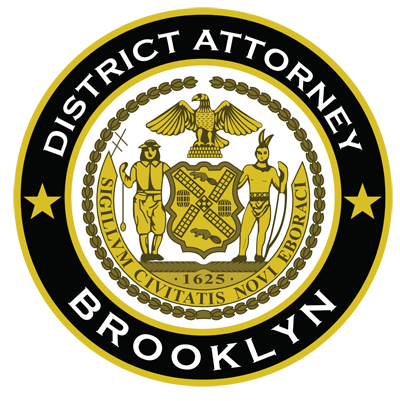 Eric Gonzalez
Acting District Attorney
Kings County
January 12, 2017
COMMUNITY PARTNER IN JUSTICE NOTIFICATION
Seven Defendants, including National Grid Employees, Charged with
Enterprise Corruption for Operating Shadow Utility Company that Illegally Installed Gas
Meters in Violation of Safety Protocols

Acting Brooklyn District Attorney Eric Gonzalez today announced the indictment of a former National Grid employee who infiltrated the public utility and corrupted a number of its employees. He and other defendants are charged with enterprise corruption and related offenses for operating a shadow utility company that violated New York City Department of Buildings and National Grid regulations and procedures, installing illegal gas meters across Brooklyn for landlords willing to pay $1,300 to $2,500 per meter. A total of 37 defendants, including seven former National Grid employees, have been charged in connection with the enterprise.
The Acting District Attorney identified Weldon "Al" Findlay, 47, of Snyder Avenue, Brooklyn, as the alleged mastermind and leader of the enterprise. Findlay, who worked for National Grid until 2010, and six other defendants are charged with enterprise corruption, which carries up to 25 years in prison. The other 30 defendants charged in connection with the case include landlords, property managers, and contractors who arranged for, installed, or received illegal gas service.
The Acting District Attorney said that, according to the indictment, the enterprise consisted of a pattern of criminal activity in connection with the illegal installation of gas meters in exchange for cash at 33 residential properties across Brooklyn, including Williamsburg, Bedford-Stuyvesant, Brooklyn Heights, Bushwick, Crown Heights, Midwood, and Borough Park, in addition to homes in parts of Queens. Findlay is alleged to have formed the enterprise, and to have directed its criminal activities throughout the period covered by the indictment, namely January 12, 2016 to June 30, 2016.
Acting District Attorney Gonzalez said, "We simply will not allow the lucrative real estate market in Brooklyn to feed criminal activity and potentially endanger lives. These defendants showed contempt for rules and regulations specifically put into place to protect public safety. And they did this with callous disregard on a regular basis. We will continue to protect Brooklyn residents by pursuing criminal prosecutions of landlords and others who put profits ahead of safeguards."
#
An indictment is an accusatory instrument and not proof of a defendant's guilt.
Read the full press release here.