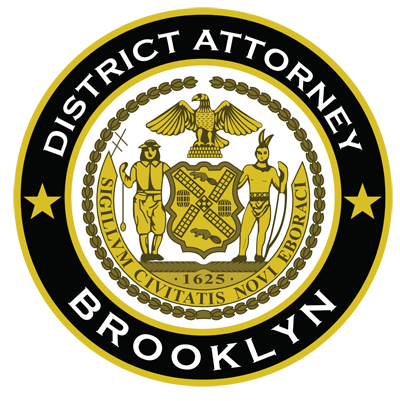 Eric Gonzalez
Acting District Attorney
Kings County
February 3, 2017
COMMUNITY PARTNER IN JUSTICE NOTIFICATION
Acting Brooklyn District Attorney Eric Gonzalez
Announces Promotions to Key Leadership Positions

Acting Brooklyn District Attorney Eric Gonzalez today announced a series of promotions to important leadership positions in the District Attorney's Office. Those include naming Timothy Gough as the new Homicide Bureau Chief, hiring of Danielle Eaddy, a distinguished defense attorney and former Assistant District Attorney, to lead one of the Trial Bureaus and promoting two veteran prosecutors to head two other Trial Bureaus.
The Acting District Attorney said that ADA Gough will replace current Homicide Bureau Chief Kenneth Taub, who is retiring next month after 36 years of extraordinary public service at the Brooklyn DA's Office, 28 of those in the Homicide Bureau. ADA Gough was most recently the Bureau Chief of the Grey Zone Trial Bureau, one of the five Trial Bureaus in the Office that together handle the bulk of felony and misdemeanor cases in the borough.
ADA Eaddy will replace ADA Gough as the Grey Zone Bureau Chief. She joined the Office in 1994 and, during a 12-year tenure, held numerous managerial positions, including Grey Zone Bureau Chief.
In addition, ADA Kin Ng has been promoted to Bureau Chief of the Red Zone Trial Bureau. A Brooklyn prosecutor since 1991, he was most recently the Chief of the Immigrant Fraud Unit.
Furthermore, ADA Robert Walsh has been promoted to Bureau Chief of the Blue Zone Trial Bureau, replacing ADA Frances Weiner, who is becoming Director of Legal Training. She was previously Deputy Bureau Chief of the Violent Criminal Enterprises Bureau among other supervisory positions. ADA Walsh, a prosecutor since 1991, has handled a wide variety of cases, included narcotics trafficking, assaults on police officers and homicides, displaying excellent courtroom skills.
Numerous other Assistant District Attorneys have been promoted to Deputy Chiefs and other supervisory positions, including Grace Jeannie Lopez to Deputy Bureau Chief of the Red Hook Community Justice Center Bureau; Nada Abdelhadi to Deputy Bureau Chief of the Early Case Assessment Bureau; Kevin C. Aulbach to Deputy Chief of the Crime Strategy Unit; and José Interiano to Deputy Chief of the Immigrant Fraud Unit.
Acting District Attorney Gonzalez said, "The promotions and appointment of these extremely accomplished prosecutors will make our Office even better and stronger. They are all highly-qualified attorneys and have a long track record of supervisory experience and courtroom expertise. Together with the rest of our staff, they will ensure that the DA's Office continues to work professionally and efficiently and remains committed in its pursuit of justice and fairness for the people of Brooklyn."
#