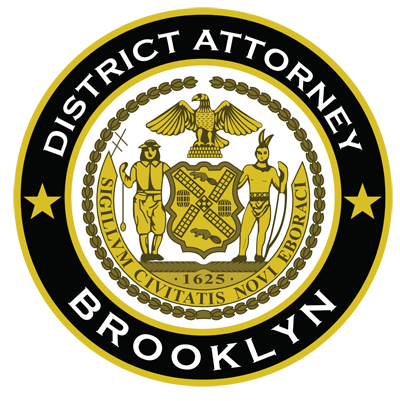 Eric Gonzalez
Acting District Attorney
Kings County
February 16, 2017
COMMUNITY PARTNER IN JUSTICE NOTIFICATION
Nine Alleged Gang Members and Associates Indicted for
Stealing over $94,000 in Bank Larceny Scheme
Acting Brooklyn District Attorney Eric Gonzalez today announced that nine alleged gang members and their associates have been charged for allegedly stealing over $94,000 from banks by depositing counterfeit checks and withdrawing available funds before the forgery was detected.
It is alleged that the defendants recruited individuals to open new accounts or provide them with personal information of existing accounts at Bank of America, TD Bank, Capital One and JP Morgan Chase. When customers deposit checks into retail accounts, these banks make a certain amount available to customers even though the checks have not cleared the institution that issued them. The defendants and co-conspirators quickly withdrew the available funds before the checks were discovered to be fraudulent, causing monetary losses to the banks (which credited the affected account holders), according to the indictments. Most of the check deposits took place at ATM locations, according to the investigation.
The Acting District Attorney said that during certain periods between June 2014 and March 2016, the defendants deposited a total of 241 allegedly counterfeit checks into 71 bank accounts and then made withdrawals.
The Acting District Attorney identified the defendants as Trumane Gibbs, 23, of East Flatbush; Michael Morris, 21, of Crown Heights; Darnell Brown, 24, of Brownsville; Tevon Allen, 28, of Flatlands; Daquan Johnson, 24, of Flatbush; Timothy Brown, 23, of Ditmas Park; Jeffrey Debrosse, 27, of Midwood; Julian Hubbard, 21, of East Flatbush; and Jermel Belfast, 30, of Flatbush.
Acting District Attorney Gonzalez said, "We now know that gang members are increasingly using financial fraud to pay for their lifestyle – like they allegedly did in the simple yet very lucrative scheme charged in these indictments. We will continue to investigate and prosecute this facet of gang activity to get dangerous individuals off the streets and make sure stolen money isn't used to fund violent acts."
#
An indictment is an accusatory instrument and not proof of a defendant's guilt.
Read the full press release here.