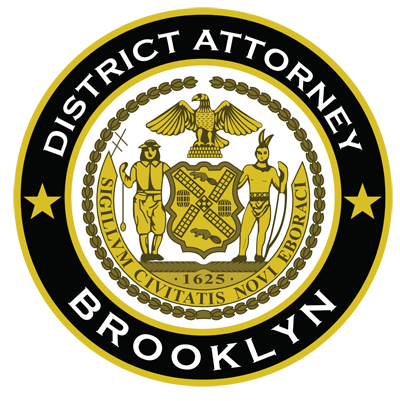 Eric Gonzalez
Acting District Attorney
Kings County
April 13, 2017
COMMUNITY PARTNER IN JUSTICE NOTIFICATION
Seven Brooklyn Residents Charged in Fraud Scheme Involving
More Than 150 Illegally Deposited Money Orders, Over $100,000 in Losses
Acting Brooklyn District Attorney Eric Gonzalez today announced that seven Brooklyn residents have been indicted for their role in an alleged scheme to fraudulently deposit the same United States Postal Service money orders into multiple bank accounts and cashing the physical money orders while failing to disclose the prior deposits.
The Acting District Attorney said that, according to the indictment, from approximately June 2014 to March 2016, the defendants purchased USPS money orders in amounts ranging from $700 up to $1,000 at post offices throughout Brooklyn. In one instance, $12,000 in money orders was purchased. It is also alleged that the defendants recruited a total of 47 bank account holders to relinquish control of their accounts—including their debit cards and Personal Identification Numbers—to the defendants for a promised sum of money. The account holders held accounts at TD Bank, Santander and Bancorp.
According to the indictment, the defendants would deposit the purchased money orders into the bank accounts through the institutions' electronic deposit mobile application. Many times, the postal money orders were electronically deposited into more than one compromised bank account. The defendants, it is alleged, would write the respective account holder's name as the money order payee and erase the information afterwards to facilitate another fraudulent deposit.
Electronic deposit mobile applications allow customers to deposit checks or money orders directly to their bank account using a smart phone or other electronic device. Many financial institutions immediately release a portion of the deposited funds making cash available for withdrawal.
The Acting District Attorney said that, according to the indictment, the defendants would withdraw money from the accounts and then cash the money orders at United States Post Office locations throughout Brooklyn, without disclosing that the money orders had previously been deposited into a bank account. It is alleged that the names of the account holders previously written in pencil were erased and money orders were written out—in ink—to the individual cashing the item.
The defendants allegedly stole approximately $74,951; $36,369; and $7,300 from TD Bank, Santander Bank and Bancorp, respectively.
Acting District Attorney Gonzalez said, "These defendants allegedly engaged in an intricate scheme to steal thousands of dollars from financial institutions and exploited a loophole in mobile electronic bank deposit applications. These loses turn into financial costs are ultimately passed onto bank customers. My Office will continue to work closely with the United States Postal Service to remain vigilant in the face crime which capitalizes on changing technology."
#
An indictment is an accusatory instrument and not proof of a defendant's guilt.
Read the full press release here.