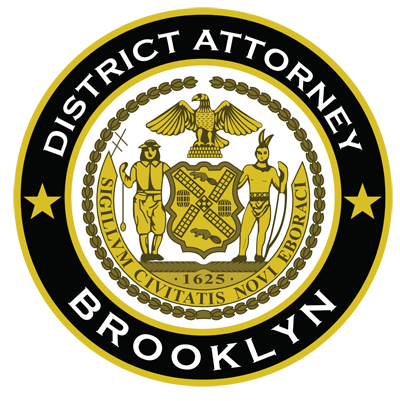 Eric Gonzalez
Acting District Attorney
Kings County
August 22, 2017
COMMUNITY PARTNER IN JUSTICE NOTIFICATION
Nine Alleged Loot Gang Members Charged With
Conspiracy to Commit Murder; 14 People Shot in Seven Incidents
Acting Brooklyn District Attorney Eric Gonzalez today announced that nine alleged members of the Brownsville- based Loot Gang have been variously charged in a 69-count indictment with conspiracy to commit murder, murder, attempted murder, weapons possession and other charges in connection with seven separate shootings that left one innocent man dead and 13 people injured. Four of those shot were women, all innocent bystanders.
The Acting District Attorney said that, according to the indictment, the defendants, who range in age from 15 to 25, are alleged to be members of the Loot Gang, which operates out of the New York City Housing Authority Ocean Hill Houses in the 73rd Precinct in Brownsville.
The defendants are charged in connection with 10 incidents, including seven shootings and one assault, between November 2015 and August 2016. Fourteen people were shot, including one fatally. One person was beaten. The defendants mostly targeted rival gangs, including, on multiple occasions, shooting at members of True Bosses Only (TBO) in Bushwick, which is TBO territory. In addition to Bushwick, the shootings occurred in Bedford-Stuyvesant, Fort Greene, Canarsie, and Jamaica, Queens. In one instance an innocent 22-year-old man who was a student at John Jay College was shot and killed.
During the course of the conspiracy, the defendants allegedly agreed to commit crimes to maintain their dominance over their claimed geographic area, their social media dominance and superior positioning among budding rap artists.
Furthermore, Loot members allegedly used social media extensively to communicate about getting guns and ammunition and committing acts of violence against rival gangs. Loot used public Facebook postings and music videos posted to YouTube and SoundCloud to antagonize rival gang members, boast about previous acts of violence against rival gangs and show Loot loyalty through hand signs, clothing and lyrics.
It is alleged that at least one shooting, on November 27, 2015, was in retaliation for the shooting death of Armani Hankins, a.k.a., Rocky, in Fort Greene, a month earlier. The victim was allegedly a friend of some of the Loot Gang members, and they released a rap music video entitled "Rockyworld" on YouTube which is a song about retaliation against a gang known as 900 for his death.
Acting District Attorney Gonzalez said, "This indictment underscores our commitment to prosecuting to the fullest extent of the law the violent gang members responsible for most of the senseless shootings in certain pockets of Brooklyn. Our targeted approach to enhancing public safety focuses on the shooters and gang leaders who drive the violence. We simply will not tolerate such lawlessness and bloodshed in our communities, which put hardworking residents at risk."
#
Read the full press release here.