DA Eric Gonzalez – Inauguration Speech 1/21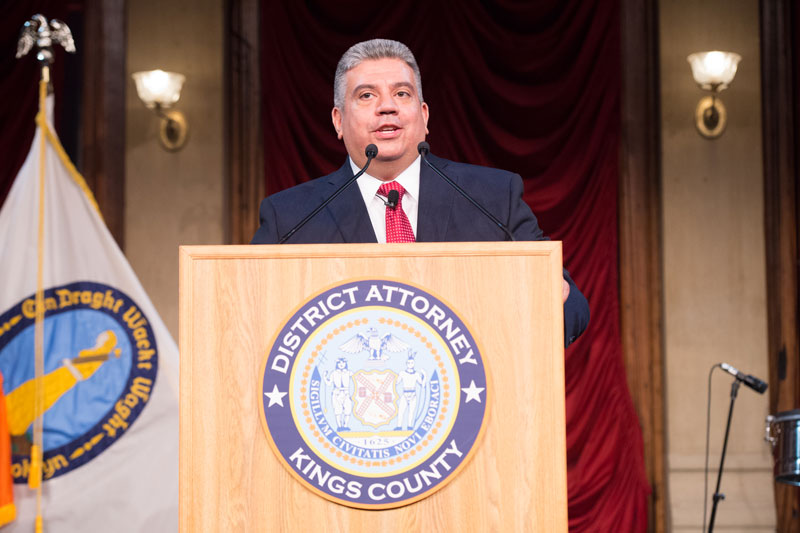 I am so thrilled and honored to be standing here today. Growing up, my dream was to serve as an assistant district attorney in the Brooklyn DA's office. That's it.  Never in my wildest dreams did I imagine that one day I would be sworn in as the District Attorney. I am humbled and honored beyond my ability to express.
I want to thank you all for being here today to share this special moment. I believe, and I know that all of you in this room believe, that we can keep our communities safe while treating people who come into contact with the system – victims, witnesses and people accused of crimes — with fairness and respect. During my campaign for DA, I saw that the clear majority of Brooklynites share this belief.
I want to thank the consultants, staff and volunteers of my campaign for district attorney. They gave their all to a hard-fought campaign that I was so proud of; it was an inclusive campaign focused on safety and justice for all the communities of Brooklyn.
I also want to thank the staff of the Brooklyn District Attorney's Office. I am so proud of the commitment of every person in the office, to keeping Brooklyn safe and to promoting a fairer system of justice. It is an honor to be your leader, and I look forward to the great things we are going to accomplish together.
To my incredible wife Dagmar, our boys Evan, Dean and Cole, my mother and my mother-in law, both named Carmen! and all of my family — thanks for your endless patience, for keeping me grounded and real. I know that without you and your love and support, I would not be standing here today. Mom–thanks for always believing in me and loving me.  Dagmar–thanks for being my true love and best friend.
I also want to acknowledge, and to remember, one towering figure who isn't with us today. And that is my friend and mentor, the late Great Ken Thompson. We all imagined that today would be Ken's day, his second inauguration, and that we would be looking back on his accomplishments, and looking forward to the future. So this is a bittersweet moment for me, and for many of us.
I know that Ken would be so proud of where the Office stands today, of how the staff held together to carry on his legacy of reform. We stand tall today on Ken's shoulders, and we look forward to a bright future because of the groundwork he laid in the far too short time he held the office of Brooklyn District Attorney.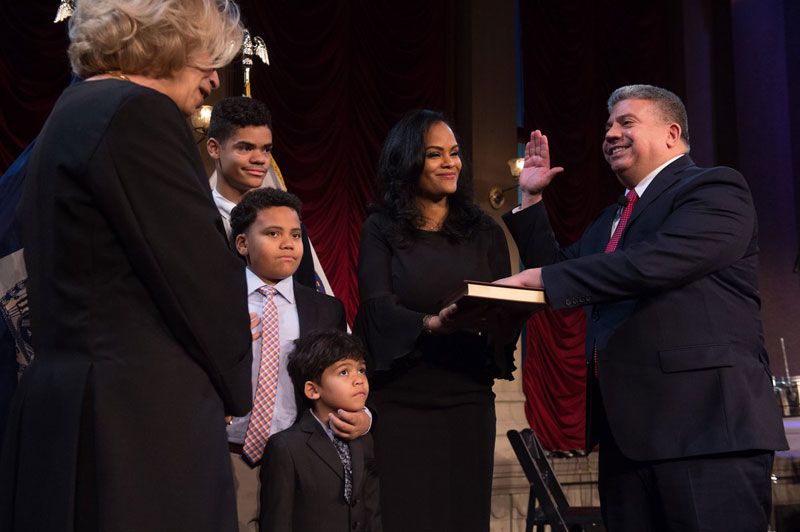 I was proud to work with Ken on the reforms for which the Brooklyn DA's office continues to be known around the country:
Our Conviction Review Unit, with 24 wrongful convictions vacated thus far, is the national model.
Our Begin Again program, in which we vacated in a single day nearly 150,000 warrants in Brooklyn, has contributed significantly to reducing the enormous backlog of warrants that have prevented thousands of our fellow New Yorkers from moving forward with their lives.
Our Young Adult Court is one of the most innovative in the country, helping young people get the services they need to avoid further criminal justice involvement.
We have pursued all these reforms while keeping Brooklyn safe.  We closed out 2017 as the safest year in my lifetime, and very possibly in yours:  shootings and homicides hit record lows.  Assaults, robberies, larcenies were all down.
As we consider this tremendous increase in public safety, we must acknowledge the extraordinary work of our partners in law enforcement, the New York City Police Department. The NYPD has shown a willingness and ability to adjust to changing times—all while developing and employing new strategies to reduce crime in our city. Stop and frisks are down, arrests are down, police use of weapons is down, and yet in 2018 we are safer than ever.
I want to thank the great men and women of the NYPD for their dedication and their hard work.
Even with all these tremendous accomplishments, there is more work to be done. I know we can move beyond what we have already achieved and make the Brooklyn DA's Office the national model of what a progressive prosecutor's office can be.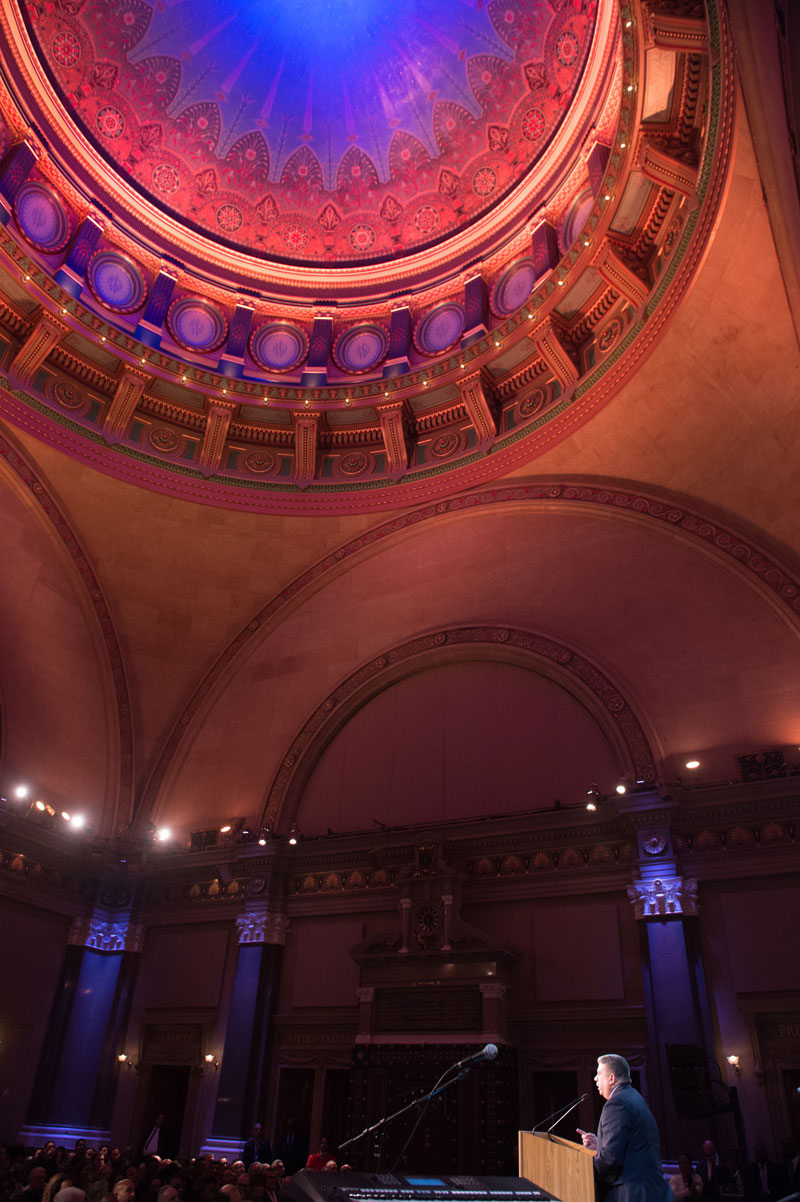 That's why, today, I'm announcing the Brooklyn DA's Justice 2020 Initiative, which is aimed at keeping Brooklyn safe and strengthening communities' trust in our criminal justice system by ensuring fairness and equal justice for all.
I intend to make significant progress toward this vision by the end of the year 2020, and this is how I'll do it:
My office will promote a justice system predicated on fairness, equity, compassion and fiscal responsibility;
We will double down on our obligation, as prosecutors, to do justice, not just seek convictions;
We will work toward outcomes that restore and heal victims and communities, and we will work to reduce racial disparities in our system;
We will continue to identify and focus on those who do the most harm; the drivers of violent crime, those dangerous individuals will face the full force of the law. We will get them off the streets, and our streets will continue to be safer for it.
In Brooklyn, what we won't do, however, is be passive in the face of cruel and misguided policies handed down from Washington DC, especially on immigration. Our recently-formed Immigration Unit is being adopted by prosecutors across the country and rightly so — it helps our friends and neighbors in immigrant communities avoid unjust deportation and sends a message to the rest of the country that when it comes to our immigrant communities, doing what's right and fair doesn't conflict with our commitment to public safety. Rather, it enhances it! it makes us safer!
We also won't criminalize poverty by keeping people in jail just because they can't afford to pay bail. In keeping with my support for, and commitment to, closing Rikers, we are leading the city in reducing reliance on cash bail.
We will continue to find new alternatives to incarceration for people whose issues can be addressed in better ways. We will reduce our reliance on jails and put an end to mass incarceration!
Next week, I will be launching our Brooklyn CLEAR program. Under CLEAR, we will divert people with drug possession cases into treatment and other services before they are charged, so they can avoid getting a criminal record. We will treat drug addiction as a health issue and not a crime.
We want to be able to measure the results of what we do, so we can hold ourselves accountable and continue to improve and to achieve our goals. So we will make better use of data to support and guide innovation in our approach to community safety and alternatives to prosecution. We will do this in collaboration with stakeholders and community partners.
This week I will be announcing the members of the Justice 2020 Launch Committee, whom I will task with making recommendations in keeping with my vision. The committee will be made up of community leaders, criminal justice experts and reformers, service providers, prosecutors and defense attorneys, representatives from the police department, and formerly incarcerated people.
The committee will work over the next few months to produce recommendations that I will share with the public.
I am so excited to begin this part of my journey, and the journey of the office I am honored to now lead.
While it feels like a time of incredible peril for our country, it is also a time of enormous promise. Even as we all share deep concerns about what is happening in Washington and the impact it is having on the most vulnerable among us, we also have, here in Brooklyn, a chance to be a national model of a criminal justice system that keeps us safe, is fair, and earns the respect and the trust of the community we serve. It is my great privilege to be leading this effort, but I cannot do it without all of you.
I want to take a minute to thank all those who helped make this ceremony special…
Brooklyn, thank you so much for putting your trust in me. Thank you for your support, now and in the future. Thank you for having my back and for lifting me up.
Thank you for joining me on this journey toward Justice 2020. I will not let you down!