Obituary of Late District Attorney Ken Thompson
---
Separate Indictments Stem from Long-Term Investigation that Exposed Multiple Criminal Schemes; Defendants Reside in New York, South Carolina, Connecticut and Elsewhere
Acting Brooklyn District Attorney Eric Gonzalez, together with New York City Police Commissioner James P. O'Neill, announced that 19 defendants have been variously charged in three separate indictments for allegedly selling 40 trafficked firearms, attempting to steal about $60,000 from bank accounts and possessing two illegal guns. The charges all stem from a long-term investigation that relied on electronic surveillance and revealed interconnected schemes and alliances between alleged gang members and their associates.
---
Engaged in Gun Battle between Warring Gangs in Middle of Crowded Street; Victim Happened Upon Shootout and was Fatally Struck in the Head
Brooklyn District Attorney Ken Thompson, together with New York City Police Commissioner William J. Bratton, announced that three men have been charged with the murder of Carey Gabay outside the Ebbets Field Houses in Crown Heights, Brooklyn, on Labor Day last year. Because each of the defendants allegedly engaged in mutual combat during the early morning shootout, they are all being held equally responsible and all have been indicted for murder. A fourth suspected gang member was previously indicted for possessing a machine gun at the scene.
---
Case Unsolved for 10 Years; Overseas Extradition to be Requested for Defendant's Return
Brooklyn District Attorney Ken Thompson, together with New York City Police Commissioner William J. Bratton, announced the unsealing of a murder indictment charging Veron Primus with the June 2006 murder of Brooklyn high school student Chanel Petro-Nixon. An extradition request will be submitted to the Caribbean country of Saint Vincent and the Grenadines, where the defendant is currently detained on another matter.
---
First Begin Again Event of 2016 Offered Latest Chance to Clear Summons Warrants
Building on the success of 2015, the Brooklyn District Attorney's Office brought Begin Again to Bushwick this June to give Brooklyn residents an opportunity to deal with summonses for low-level offenses quickly and easily right in their community.
---
Report by The National Registry of Exonerations Cites the Brooklyn DA's Conviction Review Unit as Notably Successful
For the second year in a row, the number of exonerations in the U.S. has set a record, according to a report released in February. Brooklyn DA's CRU, the largest in the nation, has moved to vacate the convictions of 20 people since 2014. "There is a movement in this country to deal with wrongful convictions and I think that it's important that prosecutors lead that movement," DA Thompson said in an interview on WNYC's All Things Considered.
---
Will Handle Misdemeanor Cases against Defendants Ages 16-24; First Such Court in New York State and Second in the Nation Funded by DOJ Grant
Brooklyn District Attorney Ken Thompson announced the creation of a Young Adult Bureau that will operate in the newly-formed Brooklyn Young Adult Court. The new specialized court will handle all misdemeanor cases of defendants between the ages 16 and 24, with few exceptions, offering risk-needs assessments, counseling and services tailored to the specific requirements of that particular age group.
---
A new direct phone number is dedicated to individuals who suspect or are the victim of a bias-related crime.
Brooklyn District Attorney Ken Thompson launches a new Hate Crimes Helpline, created in response to the rise in hate crimes within Brooklyn and in particular against members of the LGBTQ community. The Hate Crimes Helpline is 718-250-4949.
---
In Memoriam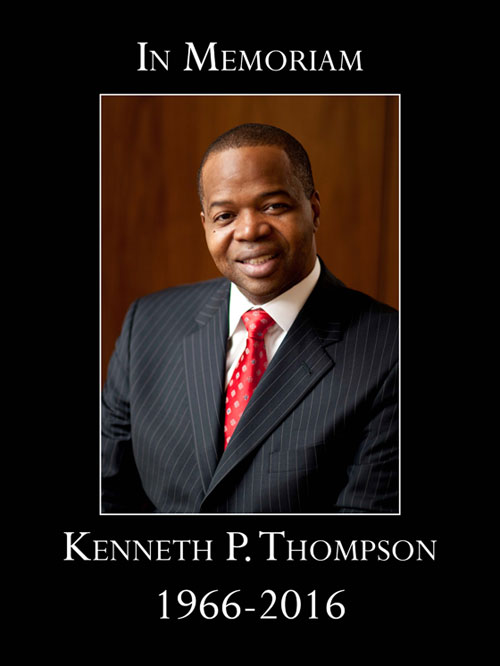 ---

Tribute to Brooklyn District Attorney Ken Thompson
---

Homegoing Service for District Attorney Ken Thompson (1/2)
---

Homegoing Service for District Attorney Ken Thompson (2/2)
---
NY Times: Ken Thompson: The Death of a Visionary Prosecutor
---
NYU Law Magazine: Profile of '92 Alum Ken Thompson
---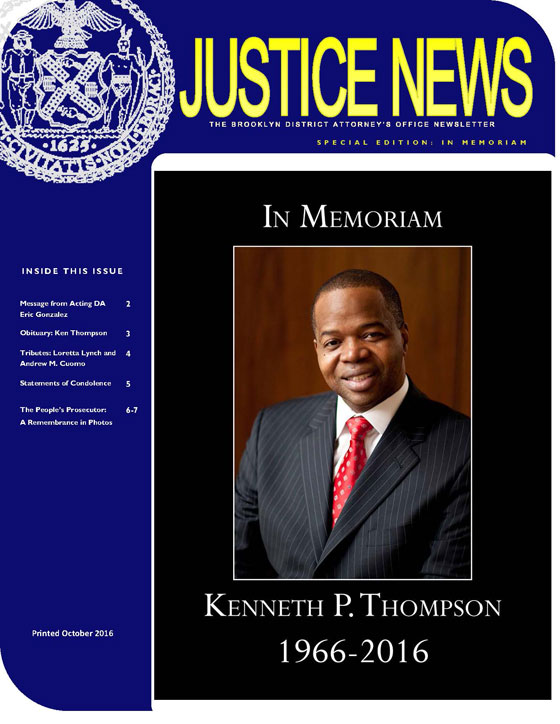 ---