Eric Gonzalez says he wants to continue the work, especially in healing community relations, that Mr. Thompson championed before dying in October.
---
Defendants Tied to Brownsville-based Crews Charged in 15 Separate Indictments; Used Forged Credit Cards to Purchase American Girl Dolls, Rental Cars, Concert Tickets; Others Charges include a Home Invasion and Owning Gun 8-Year-Old Brought to School

Acting Brooklyn District Attorney Eric Gonzalez, together with New York City Police Commissioner James P. O'Neill, today announced that 35 alleged members of street gangs and crews have been variously charged in 15 indictments with narcotics distribution, weapons possession, burglaries, forgery and identity theft. The charges are the result of a long-term investigation that relied on electronic surveillance and exposed a multitude of criminal activities, from violent street crime to sophisticated credit card fraud.
---
The new unit, staffed by a DNA specialist, will better equip the Brooklyn DA's Office to investigate unsolved homicides and other crimes that can benefit from advanced DNA analysis. The Brooklyn DA's Office becomes the only prosecutorial office in the State with an in-house DNA expert
---
The Brooklyn District Attorney's Office and five other NYC-area DA's Offices are committed to protecting all members of our communities. Read the full statement here.
---
Additional 30 defendants, including Landlords, Also Charged in Scheme
Acting Brooklyn District Attorney Eric Gonzalez, together with New York City Department of Investigation Commissioner Mark G. Peters, today announced the indictment of a former National Grid employee who infiltrated the public utility and corrupted a number of its employees. He and other defendants are charged with enterprise corruption and related offenses for operating a shadow utility company that violated New York City Department of Buildings and National Grid regulations and procedures, installing illegal gas meters across Brooklyn for landlords willing to pay $1,300 to $2,500 per meter. A total of 37 defendants, including seven National Grid employees, have been charged in connection with the enterprise. Watch the press conference here>>
---
Will Handle Misdemeanor Cases against Defendants Ages 16-24; First Such Court in New York State and Second in the Nation Funded by DOJ Grant
Brooklyn District Attorney Ken Thompson announced the creation of a Young Adult Bureau that will operate in the newly-formed Brooklyn Young Adult Court. The new specialized court will handle all misdemeanor cases of defendants between the ages 16 and 24, with few exceptions, offering risk-needs assessments, counseling and services tailored to the specific requirements of that particular age group.
---
Separate Indictments Stem from Long-Term Investigation that Exposed Multiple Criminal Schemes; Defendants Reside in New York, South Carolina, Connecticut and Elsewhere
Acting Brooklyn District Attorney Eric Gonzalez, together with New York City Police Commissioner James P. O'Neill, announced that 19 defendants have been variously charged in three separate indictments for allegedly selling 40 trafficked firearms, attempting to steal about $60,000 from bank accounts and possessing two illegal guns. The charges all stem from a long-term investigation that relied on electronic surveillance and revealed interconnected schemes and alliances between alleged gang members and their associates.
---
World Champion Chess Player Maurice Ashley to Lead Chess Clubs, Teach Young People to Think Strategically About Their Next Move
Acting Brooklyn District Attorney Eric Gonzalez, together with Police Athletic League Executive Director Frederick Watts, today announced a new initiative in East New York and Bedford-Stuyvesant to provide high-quality chess programs to at-risk youth.
---
A new direct phone number is dedicated to individuals who suspect or are the victim of a bias-related crime.
Brooklyn District Attorney Ken Thompson launches a new Hate Crimes Helpline, created in response to the rise in hate crimes within Brooklyn and in particular against members of the LGBTQ community. The Hate Crimes Helpline is 718-250-4949.
---
Internship Program to Run in Mid-Winter and Spring Cycles; Program Provides Unique Learning Experience in Public Service and Law
Acting Brooklyn District Attorney Eric Gonzalez today announced the launch of a competitive mid-winter and spring internship program for current high school juniors and seniors who live and attend school in Brooklyn. Students with a strong interest in criminal justice or the public interest sector and who meet the requisite eligibility criteria are encouraged to apply and participate in one of two intensive one-week programs.
---
Engaged in Gun Battle between Warring Gangs in Middle of Crowded Street; Victim Happened Upon Shootout and was Fatally Struck in the Head
Brooklyn District Attorney Ken Thompson, together with New York City Police Commissioner William J. Bratton, announced that three men have been charged with the murder of Carey Gabay outside the Ebbets Field Houses in Crown Heights, Brooklyn, on Labor Day last year. Because each of the defendants allegedly engaged in mutual combat during the early morning shootout, they are all being held equally responsible and all have been indicted for murder. A fourth suspected gang member was previously indicted for possessing a machine gun at the scene.
---
Building on the Success of its First Two Years, Begin Again will Return in the Spring of 2017, Offering the Latest Chance to Clear Summons Warrants
---
Report by The National Registry of Exonerations Cites the Brooklyn DA's Conviction Review Unit as Notably Successful
For the second year in a row, the number of exonerations in the U.S. has set a record, according to a report released in February. Brooklyn DA's CRU, the largest in the nation, has moved to vacate the convictions of 20 people since 2014. "There is a movement in this country to deal with wrongful convictions and I think that it's important that prosecutors lead that movement," DA Thompson said in an interview on WNYC's All Things Considered.
---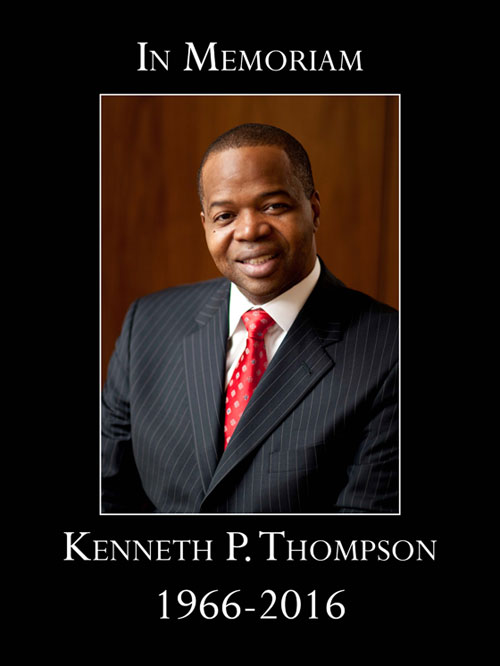 ---
---
Videos
Acting DA Gonzalez Announces Creation of Cold Case Unit
---
Acting Brooklyn DA Eric Gonzalez speaks at BAM's Brooklyn Tribute to Dr. Martin Luther King, Jr.
---
Seven Defendants Charged for Operating Shadow Utility Company
---
Acting DA Eric Gonzalez Announces Indictments of 35 Gang Members
---
Acting DA Gonzalez Announces Indictments of 19 Defendants for Gun Trafficking, Bank Larceny and Weapons Possession
---
Acting DA Eric Gonzalez Hosts a Brooklyn Immigration Forum
---

Homegoing Service for District Attorney Ken Thompson (2/2)
---